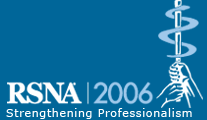 Abstract Archives of the RSNA, 2006
SSQ04-07
Imaging Findings in Pulmonary Silicone Embolism: Report of Seven Cases and Review of the Literature
Scientific Papers
Presented on November 30, 2006
Presented as part of SSQ04: Chest (Pulmonary Vascular)
Carlos Santiago Restrepo MD,
Presenter: Nothing to Disclose
Jorge Carrillo,
Abstract Co-Author: Nothing to Disclose
Aura L Rivera,
Abstract Co-Author: Nothing to Disclose
Santiago Martinez-Jimenez MD,
Abstract Co-Author: Nothing to Disclose
Santiago Enrique Rossi MD,
Abstract Co-Author: Researcher, Schering AG (Berlex Inc)
To assess patient outcome and imaging findings in the lungs associated with illicit subcutaneous injection of liquid silicone.
The medical records and imaging findings of 7 patients with respiratory distress secondary to illicit subcutaneous injection of liquid silicone were reviewed. Additional 37 cases were found in the literature, for a total of 44 cases. Patients demographic information, clinical presentation, outcome, and imaging manifestations were analyzed.
There were 25 transsexual males and 19 females. Mean age was 31.3 years (age range,19 to 58 years). Most common site of injection was breast (23), followed by trocantheric region (14), gluteal (9), vagina (5), pectoralis muscles (2), and arms (1). Only one site of injection was reported in 36 patients,and multiple sites in 8. Previous episodes of liquid silicone injection were reported in 21 of the 44 patients (47.7%). Fever was the second most common clinical presentation (45.4%),after respiratory distress (100%). Chest radiographs revealed bilateral diffuse parenchymal opacities (84.1%)and parenchymal consolidation (73%). A peripheral distribution was noted in 16% of the cases. CT was performed in 12 patients, revealing peripheral distribution of the opacities in 8 patients (66.7%), with dominant ground glass pattern in the mayority of cases (92%). Less common was the presence of interlobular septal thickenning, or consolidation. No pleural fluid or mediastinal abnormalities were noted. Mortality rate was high (11 out of 44, 25%). Most common and most significant finding at autopsy was alveolar hemmorrhage (100%).
Bilateral parenchymal opacities, with a characteristic ground glass pattern of disease in a peripheral distribution, are the most common imaging findings associated with illicit subcutaneous injection of liquid silicone. Transsexual males with acute onset respiratory distress, and fever with this imaging findings, should be suspecetd to have silicone embolism to the lungs.
The injection of liquid silicone is frequently used for illegal breast augmentation and other cosmetic procedures. Radiologist should be aware of its clinical presentation and imaging manifestation
Restrepo, C, Carrillo, J, Rivera, A, Martinez-Jimenez, S, Rossi, S, Imaging Findings in Pulmonary Silicone Embolism: Report of Seven Cases and Review of the Literature. Radiological Society of North America 2006 Scientific Assembly and Annual Meeting, November 26 - December 1, 2006 ,Chicago IL.
http://archive.rsna.org/2006/4431823.html