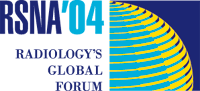 Abstract Archives of the RSNA, 2004
Gianluca Piccoli MD,
Presenter: Nothing to Disclose
Bruno Bais,
Abstract Co-Author: Nothing to Disclose
Stefano Smania,
Abstract Co-Author: Nothing to Disclose
Andrea Marzio MD,
Abstract Co-Author: Nothing to Disclose
Alessandro Vit,
Abstract Co-Author: Nothing to Disclose
Daniele Gasparini,
Abstract Co-Author: Nothing to Disclose
The aim of our investigation was to evaluate the benefit of Carotid angioplasty and stenting for prevention of cerebrovascoular disease.
We treated 180 patients using always protection device; only for 171 of them a complete follow-up was available. We used NASCET to select patients; every candidate were previously clinically evaluated by Neurologists and Hagiologists
The treatment was performed on 86 right I.C.A., 100 left I.C.A. (6 patients were treated on both sides). 60% of patients had neurological symptoms before the treatment, 41.30% of them had a previous stroke, 34.8% a previous T.I.A. and 23.9% a specific events like dizziness. The outcome was evaluated on a mean follow-up of 8.6 months (range 1- 26). One patient of the symptomatic group had a minor stroke 3 days after treatment and 2 of the same group had a major stroke (one fatal stroke). One of the asymptomatic group had a major stroke 39 days after treatment, but on the contra lateral hemisphere. One patient died because of pulmonary emboli. Two more patients died after several months because of unrelated reasons.
Our findings demonstrate that carotid angioplasty is a safe procedure and the results are the same of surgical ones reported in literature. We had 1 case of minor stroke ( 0.6%) and 2 case of death (1.2%) and 1 major stroke (0.6%). Global complication rate was 4 cases (2.34%) of these the neurological ones were 3 (1.75%). The restenosis rate was 4% using a cut off of 50% of stenosis. Our results are in line with those of recent randomised studies.
Piccoli, G, Bais, B, Smania, S, Marzio, A, Vit, A, Gasparini, D, Protected Carotid Artery Angioplasty and Stenting: Acute and Long-term Outcomes in 180 Patients. Radiological Society of North America 2004 Scientific Assembly and Annual Meeting, November 28 - December 3, 2004 ,Chicago IL.
http://archive.rsna.org/2004/4416402.html