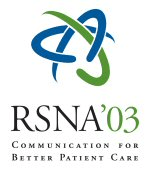 Abstract Archives of the RSNA, 2003
T16-1522
Intelligent Dispatcher: A Device to Pre-Validate DICOM Studies from a Modality before Being Archived to a PACS, to Correct Typographical Mistakes, for Temporary Storage, to Accommodate Legacy Modalities, and to Route Intelligently
Scientific Papers
Presented on December 5, 2003
Presented as part of T16: Radiology Informatics (PACS: Tools II)
Steve Uttecht MS,
PRESENTER: Nothing to Disclose
Abstract: HTML In the electronic world of film less radiology, mistakes happen. Such mistakes, although innocent typographical errors due to busy environments, will cause the exam to be labeled as an exception that requires intervention before it will pass validation within the PACS. Since someone other than the technologist performs the correction, significant delays may occur and other errors may be introduced. For example, an exam may have the correct medical record number for person A, but the correct accession number for person B (a very common occurrence given the sequential nature of accession numbers), who therefore, does the exam belong too? The only person who can correctly fix this type of error is the radiology technician who performed the exam, but often times this person isn't immediately available. Therefore, it would be more appropriate to alert him or her immediately after sending the first exam to the archive, fixing the error with minimal effort, thus improving patient care, as the exam will therefore pass validation at the archive. The Intelligent Dispatcher also includes significant disk storage to temporarily store a weeks worth of studies to compensate for temporary problems at the archive. Monitoring is all performed remotely through web interfaces. A PC would sit next to the scanner with a monitoring tool that ignores exams that pass validation. Exams failing validation would cause an audible alert and a visual pop-up window. This window can contain multiple studies, and each study may be fixed in any order. The monitoring tool can be configured to be sensitive to only the studies that are performed on the adjacent modality, or can be configured to look at all of the modalities. Anyone with a PC can monitor studies by linking to the validation website. Validation involves selecting the failed study, which launches a web form with the information that arrived from the modality. An automatic query is performed against a database that was created by listening to HL7 feeds from a RIS. This query asks for the information returned by querying with the medical record number, and separately, queries with the accession number. Sometimes, neither of these returns valid results, then a query can be made with the patient's name. Once the correct person is found, accession numbers associated with this person are displayed and the correct one may be selected. If the correct accession number is not displayed or is not available, the study may be pushed to the archive without being pre-validated. This is useful for testing and research studies. 1)Pre-validate studies originating from a modality prior to sending to PACS 2)Allow technologist to fix mistakes. 3)Maintain a short-term archive to compensate for problems at destination. 4)Provide mechanism to compensate for legacy modalities, and to intelligently route studies. Questions about this event email: uttesd@upmc.edu
Uttecht MS, S, Intelligent Dispatcher: A Device to Pre-Validate DICOM Studies from a Modality before Being Archived to a PACS, to Correct Typographical Mistakes, for Temporary Storage, to Accommodate Legacy Modalities, and to Route Intelligently. Radiological Society of North America 2003 Scientific Assembly and Annual Meeting, November 30 - December 5, 2003 ,Chicago IL.
http://archive.rsna.org/2003/3107681.html