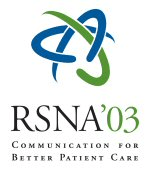 Abstract Archives of the RSNA, 2003
Massimo Caulo MD,
PRESENTER: Nothing to Disclose
Abstract: HTML Purpose: To asses cerebral perfusion alterations in asymptomatic patients with normal MRI of the brain and stenosis of intracranial and/or internal carotid artery (ICA). Methods and Materials: 15 patients with sonographic evidence of carotid stenosis were evaluated. Perfusion imaging was obtained during the interval between a standard MRI examination (including 3D-TOF for intracranial arteries) and contrast enhanced (1.0 mol/L Gadobutrol: 0.1 mmol/kg) MRA of epiaortic vessels. Perfusion imaging was acquired with a temporal resolution of 1.9 seconds, 10 seconds after an intravenous bolus injection of contrast material (1.0 mol/L Gadobutrol: 0.1 mmol/kg, 5 mL/sec). A 1.5 Tesla MR scanner and echo-planar (EPI) sequences were used. Perfusion analysis was obtained after white and gray matter segmentation. Maps of relative cerebral blood volume (rCBV) and cerebral blood flow (rCBF), mean transit time (MTT) and time to peak (TTP) were calculated. Results were correlated with the degree of ICA and intracranial arteries stenosis. Results: Degree of ICA stenois was not correlated with significant differences of rCBF and rCBV in the gray and white matter between the hemispheres. TTP was always prolonged ipsilateral to the site of severe ICA stenosis. In patients with bilateral severe ICA stenosis MTT was significantly prolonged in the hemisphere ipsilateral to the more stenotic ICA, while it was always normal in patients with unilateral stenosis. In 3 patients with stenosis of intracranial arteries distal to the circle of Willis, prolongation of MTT was always present. Conclusion: Severe ICA stenosis do not alter CBF, CBV in patients with normal MRI examination. In case of intracranial arteries stenosis and severe bilateral ICA stenosis, the prolongation of MTT is most likely correlated with collateral flow via leptomeningeal anastomoses. Questions about this event email: massimo.caulo@itab.unich.it
Caulo MD, M, Cerebral Hemodynamics in Patients with Carotid Stenosis and Normal MR Examination of the Brain: A Dynamic Susceptibility Contrast MR Study. Radiological Society of North America 2003 Scientific Assembly and Annual Meeting, November 30 - December 5, 2003 ,Chicago IL.
http://archive.rsna.org/2003/3107232.html