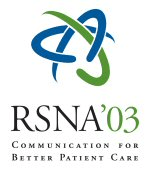 Abstract Archives of the RSNA, 2003
M10-1129
Radiofrequency Ablation Combined with Selective Renal Arterial Embolization for the Treatment of Renal Cell Carcinoma: Initial Experiences
Scientific Papers
Presented on December 3, 2003
Presented as part of M10: Vascular Interventional (Tumor Ablation)
Koichiro Yamakado MD,
PRESENTER: Nothing to Disclose
Abstract: HTML Purpose: To evaluate feasibility, safety, and therapeutic effects of percutaneous radiofrequency (RF) ablation combined with selective renal arterial embolization for the treatment of unresectable renal cell carcinoma (RCC). Methods and Materials: Nine patients with 12 RCCs underwent the combined therapy. Six tumors were small (<3cm), and the other 6 were large (3.6-5.0cm). Tumors were percutaneously ablated 6 days after tumor vessels were selectively embolized. Response to treatment was evaluated by dynamic contrast-enhanced computed tomography (CT) and magnetic resonance (MR) imaging. Results: Tumor enhancement was eradicated in all tumors (100%, 12/12) regardless of tumor size and location within 2 RF sessions on contrast-enhanced CT studies. Contrast-enhanced MR studies showed free of tumor enhancement in all but one large tumor (92%, 11/12) that were excised following RF ablation. The resected tumor specimen showed viable cancer cells intermingled with necrosis and hemorrhage throughout the tumor. Eleven tumors without surgical intervention remained free of enhancement and showed significant reduction in the mean tumor size from 3.3+/-1.2cm to 2.8+/- 1.1cm (p<0.001) during the mean follow-up period of 5.1months (range, 2-12months). There were no major complications related to the procedures. Conclusion: The combined therapy described here is a feasible, safe, promising treatment for unresectable RCCs. This study, however, suggests the limitation of imaging evaluation of viable cancer cells. Close and long-term follow-up is required.
Yamakado MD, K, Radiofrequency Ablation Combined with Selective Renal Arterial Embolization for the Treatment of Renal Cell Carcinoma: Initial Experiences. Radiological Society of North America 2003 Scientific Assembly and Annual Meeting, November 30 - December 5, 2003 ,Chicago IL.
http://archive.rsna.org/2003/3103481.html