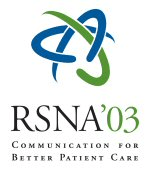 Abstract Archives of the RSNA, 2003
Edward Leen MD,
PRESENTER: Nothing to Disclose
Abstract: HTML Purpose: To compare the unenhanced US versus contrast-enhanced US (CEUS) in the characterization of FLL using non-linear imaging modes Methods and Materials: From 7 centres, 127 patients with 157 FLL were studied using top-of-the-range US scanners. Non Linear Imaging (NLI) mode, fundamental B mode & power Doppler imaging of the liver were performed at baseline. NLI of the hepatic lesion was then carried out at low mechanical index (0.1-0.3) immediately after an intravenous administration of SonoVue (dose: 2.4ml) for the first 3 minutes. Biopsy or combined CT/MR, biochemical markers and other clinical information were used as the SOR. CEUS diagnosis was established on the basis of the tumour vascularity and pattern of enhancement in the arterial and portal phases and degree of contrast uptake within the lesion relative to that of normal liver in the late phase. Diagnostic accuracy and diagnostic performance of contrast enhanced US (CEUS) in identifying the lesion (a) as benign or malignant (b) as its actual tumour type, were compared with baseline US. Results: Of the 157 lesions, 134 had confirmed SOR diagnosis. At baseline, an US diagnosis was made in 32%, indeterminate in 67% and unknown in 2%; a CEUS diagnosis was made in 90%, indeterminate in 8% and unknown in 3%. Of the 52 benign lesions, accurate diagnosis was made in 34% of the cases on unenhanced US compared with 81% of the cases on CEUS. Of the 82 malignant lesions, accurate diagnosis was made in 28% of the cases on unenhanced US compared with 90% on CEUS. For metastases (n=31), HCCs (n=46), FNH(n=13) and haemangiomas (n=25), accurate diagnosis was made on unenhanced US in 19%, 32%, 31% and 36% respectively on unenhanced US compared with 87%, 78%, 77% and 84% respectively on CEUS. All differences were statistically significant (p<0.001) Conclusion: These data suggest that CEUS improves the characterisation of focal liver lesions compared with unenhanced US and may obviate the need for further diagnostic tests. Questions about this event email: elsleen@yahoo.co.uk
Leen MD, E, European Multi-centre Study Evaluating Contrast-enhanced US in the Characterisation of Focal Liver Lesions (FLL). Radiological Society of North America 2003 Scientific Assembly and Annual Meeting, November 30 - December 5, 2003 ,Chicago IL.
http://archive.rsna.org/2003/3102781.html