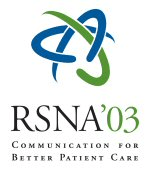 Abstract Archives of the RSNA, 2003
G15-663
An Evaluation of the Clinical Utility of Three Phase Bone Scintigraphy vs Magnetic Resonance Imaging (MRI) in Diagnosing Osteomyeltis in the Pediatric Population
Scientific Papers
Presented on December 2, 2003
Presented as part of G15: Pediatric (Pediatric Musculoskeletal)
Bruce Lee MD,
PRESENTER: Nothing to Disclose
Abstract: HTML Purpose: Three-phase bone scintigraphy has long been the modality of choice for diagnosing osteomyelitis in the pediatric population. It has been suggested that magnetic resonance imaging (MRI) may have advantages because of its ability to distinguish soft-tissue processes from bone marrow processes. This study aims to determine the sensitivity and specificity of three phase bone scintigraphy in diagnosing osteomyelitis in children and comparing it with MRI. Methods and Materials: From 1996 to 2002, 205 patients (average age 2.6 years, age range one week to 7 years) received three-phase bone scans at our institution to evaluate for osteomyelitis. 144 of these patients had documented clinical or pathologic follow-up to establish a diagnosis. Forty-one of these patients also received MRI of the suspected areas. We retrospectively reviewed the radiology reports, medical records, and available pathology reports on these patients. Results: For the third phase of the bone scan (delayed images), the sensitivity was 86.4% versus 68.1% for MRI, the specificity 59.0% versus 77.3%, the positive predictive value (PPV) 48.1% versus 72.2%, and the negative predictive value (NPV) 90.8% versus 73.9%. These numbers did not change significantly if a positive bone scan is considered to be one in which any of the three phases is positive. If a positive study for osteomyelitis is considered to be only one that is positive on all three phases, then the sensitivity was 50%, the specificity 82.0%, PPV 55.0%, and NPV 78.8%. Conclusion: Our series suggests that bone scan is more sensitive than MRI in diagnosing osteomyelitis. The specificity of bone scintigraphy is superior to MRI only when all three phases are positive. These results imply that while MRI may have theoretical advantages, these advantages may actually come at a cost in sensitivity and do not necessarily make it superior to bone scintigraphy in diagnosing osteomyelitis. This study supports the role of bone scintigraphy as the primary imaging technique and the utility of all three phases in improving specificity in determining the presence of osteomyelitis in the pediatric population.
Lee MD, B, An Evaluation of the Clinical Utility of Three Phase Bone Scintigraphy vs Magnetic Resonance Imaging (MRI) in Diagnosing Osteomyeltis in the Pediatric Population. Radiological Society of North America 2003 Scientific Assembly and Annual Meeting, November 30 - December 5, 2003 ,Chicago IL.
http://archive.rsna.org/2003/3100951.html